COSRX One Step Original Clear Pad
COSRX One Step Original Clear Pads are pre-soaked cotton pads used as an acne-fighting toner with ingredients such as BHA.  After cleansing gently exfoliate the skin and help to combat oily and pimple prone skin. 
Key Ingredients:
Salix Alba (Willow) Bark Water
Clears blemishes and re-textures the skin so it is smoother and softer.
Betaine Salicylate (BHA)
Works as a gentle exfoliator to get rid of dead skin cells and clogged pores.
Panthenol
A skin soothing ingredient which is hydrating as once absorbed into the skin, will bind with water.

1 tub: 70 pads.
Skin Library is an authorised retailer of COSRX products.
Ingredients
Salix Alba (Willow) Bark Water, Butylene Glycol, Glycerin, Betaine Salicylate, 1,2-Hexanediol, Arginine, PEG-60 Hydrogenated Castor Oil, Panthenol, Allantoin, Ethyl Hexanediol, Citrus Aurantium Dulcis (Orange) Peel Oil, Melaleuca Alternifolia (Tea Tree) Leaf Oil, Sodium Hydroxide, Sodium Hyaluronate.
To find out more check out our Ingredient Dictionary.
Product descriptions and ingredient lists are updated periodically. Upon receiving the product please make sure you check the ingredient list on the packaging to ensure you do not have any allergies to the ingredients listed.
How to use
(!) Always perform a patch test with new products, if an allergic reaction occurs discontinue use immediately and consult your doctor (!)
Step 1: After cleansing, gently wipe your face with the embossed side
Step 2: To remove excess dirt, use the smooth side. Then follow up with your serum for a targeted treatment for your specific skin concerns.

Librarian Tip 1: Tap in the product to improve the absorption of the essence
Librarian Tip 2: Use it as a quick mask to cool down your face by taking the pads and placing them on your cheeks for 5-7 minutes
Reviews
Customer Reviews
10/30/2020
N

United Kingdom
Best spot treatment ever!!!
As someone who was clueless about which exfoliate to use as I have sensitive skin. This was a live saver. It doesn't burn the skin or feel uncomfortable. I use it as a spot treatment also which will have you waking up the next day with the spot GONE. Also noticed my hyperpigmentation clearing up slowly since using this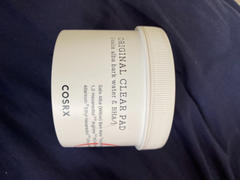 Customer Reviews
10/30/2020
N

United Kingdom
Best spot treatment ever!!!
As someone who was clueless about which exfoliate to use as I have sensitive skin. This was a live saver. It doesn't burn the skin or feel uncomfortable. I use it as a spot treatment also which will have you waking up the next day with the spot GONE. Also noticed my hyperpigmentation clearing up slowly since using this